Do you see me doing the happy dance? Not only have I picked out the color I'm painting my studio, I also got to go in and SCRAP tonight! :) I'll paint in a week or so or maybe save that for late August when it's too Africa hot to do anything else. I'm ready to go to IKEA and get my storage in place too! We'll see!
Regardless... here is my creation for The Mosy Scrapper (best little scrapping message board on the web) come register, chat, tell 'em I sent ya!
http://themosyscrapper.forumakers.com
The journaling reads: God forbid you ever learn just how cute you really are!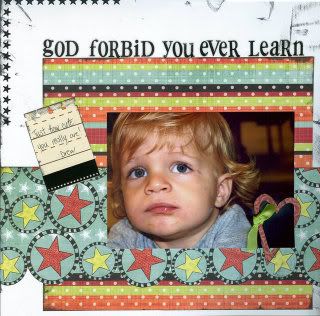 It's from a guest sponsored kit -- www.createmykeepsake.com They're awesome as well and so you should definitely check 'em out!