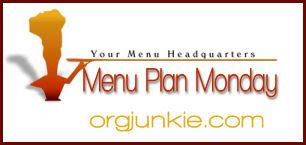 Oh yes, it's that time of the week again! Already ready to start the week all over! WOO HOO! We've started our new workbox system in our homeschool endeavors. Drew is home today -- was supposed to have a park playday at a local park with his class but since this is the FIRST day he's been without a horrible cough, I just couldn't risk it. Yeah, sue me... besides, we like having him home! :)
So today here's the drill:
Monday:
B: Sausage and egg casserole (one of the family favorites)
You can find it by clicking here.
L: Subway (promised the boys -- they love to "eat fresh"
D: Fettuccini carbonera, caesar salad, bread with dipping sauce
Tuesday
B: Cereal with fruit or leftover casserole and juice
L: Soup/sandwiches
D: King Ranch chicken
Wednesday
B: A new recipe I just recently received -
Sunny Morning Star Biscuits Souffles
L: Frozen dinners, sliced fresh veggies
D: Spaghetti, garlic cheese bread, wedge salad with avocado ranch dressing
Thursday
B: Oatmeal, fruit, toast, milk
L: leftovers
D: Italian roast beef sandwiches (crock pot) topped with mozzarella, chips, cold pasta salad
Friday
B: Pancake Friday with fruit and milk
L: Out and about (we're going to be across town at a movie)
D:
Creamy Skillet Lasagna
Saturday
B: Cheese, bacon and egg biscuit sandwiches and V8
L: Sandwiches
D: Early supper at my aunt's (we're having a family get-together for a pre-Easter egg hunt), burgers/dogs/fixins/potato salad/baked beans and family favorites and snacky foods
Sunday
B: Bagels, yogurt, fruit and granola with juice and/or milk
L: At Grandmas with an egg hunt
D:
Chicken Alfredo Rice Casserole
with a tossed salad and whole wheat rolls