The weather was beautiful and the rest of the week had a chance of rain so Drew and I took advantage of the beautiful day and headed to the Fort Worth Zoo. I got there and realized my membership was expired... DUH so we renewed. Drew's picture is hilarious. His arms are up behind his head because he was trying to hide his face. Little nut! All he wanted to do was have his picnic and he didnt care if he ate it in the zoo or in the place where you get your id's for memberships.
So, we got in... holy crap that was a loud clap of thunder just now... the dogs are now seeking shelter in my room (buncha chickens they are)... ANY-WHO... made our way across the bridge and headed to the flamingos... as seen here. :) He said they were neat but they stunk. Ok... moving right along...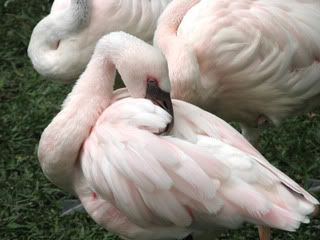 made our way to the zebras...found a little picnic pavilion and ate our picnic lunch where I made the stupid mistake of TRYING to take a picture. The child doesn't know NOT to say cheese... I'd rather him just glare at me than look all po'd like he does TRYING to say cheese b/c he a) doesn't make eye contact and b) he doesn't say cheese to make himself smile... he says cheese, well... to SAY CHEESE. DUH! LOL... it's aggravating for a shutter bug like myself! When he says cheese, he just looks like he's about to cry or that he's in pain.
see... this is a "cheese" (ok, technically it's peanut butter and jelly but... still doesn't he loook in pain?)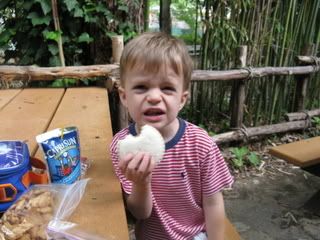 And we're at the zoo, the inevitable monkey face: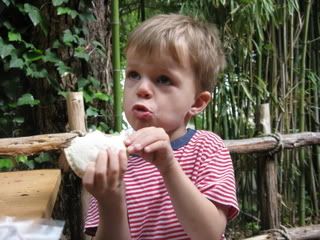 And of course, his loving pose for pictures ... no camera session is complete without them now. :)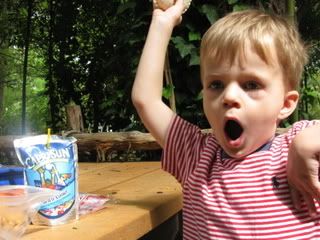 So food down...we head for the snakes. We make our way around the entire snake exhibit and he is just beyond excited about this... BEYOND.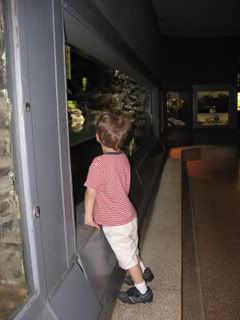 Isn't this a cool pic? It's taken behind glass!! I was impressed with this little camera I got!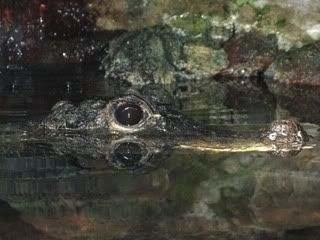 he wants to go around twice. I offered a ride on the train first and he accepted so we rode the train round trip.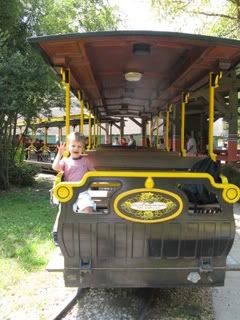 Then headed to the hill country in the Texas Wild exhibit to see the bats and the jaguars. He just falls in LOVE with the jaguars -- that's like Diego! :) Boy are my kids branded! Drew recognized "Polo" at 2 years old ... they're warped indeed!
Run through the Hill Country... didn't see the bats -- perhaps they were on hiatus or something (bummer) but we saw spiders and that was WAY cool... and he touched a shell and a crab and a sea urchin...
He wanted to go through the snake exhibit again so ... heck, why not!
In we go... made our way through and he said he was ready to go home. :) Sure thing kiddo! :) I wore my backpack in reverse and carried him piggyback and home we went.
He crashed out in the car on the way home... that 25 minute power nap.. in place of a good 2 1/2 to 3 hour nap like usual... yikes... just see ugly written all over that! :) And yes, it was a little drama-ish that evening... oh well...but it was a fun day.