Josh got in trouble at school today so he's banished from playing in the front yard (pity too because it's beautiful) so he was sentenced to a week of outside play in the backyard with his brother. (ha ha... there is a method to my madness, no?)
So they're digging for roly polies - Drew's new addiction and Josh screams he found a snake. I'm sure it's an April Fool's Day joke.. but alas, no... it's not. :) So, say hello to my little friend: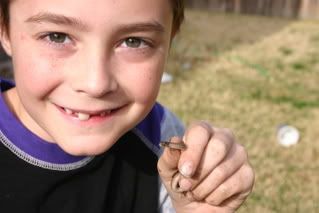 Aaahh, the joys of boys. Gotta love it!