I woke up this morning feeling pretty much like death warmed over... Drew was an ANGEL and I literally didn't get out of bed until about 11 a.m. or so. I felt so guilty for keeping Drew contained that I just got dressed, took him to Target to get pajamas (he didn't want any of my cute ones ... he wanted Bat Man, Spiderman, Power Rangers, Superman... so he got no jammies, oh well). I got Josh some cute ones that were "wintery". He liked and appreciated them. :) I don't know many 8 year olds that are all into the whole superhero thing so I was safe.
And face it, you can't ride the Polar Express WITHOUT wearing a pair of pajamas and a fuzzy robe to stay warm! :) It's just gotta be done. I got the boys doubled up for warmth... got them both a robe for a "coat" and off we were..... camera.... tickets. :) Polar Express here we come.
We got there and the parking lot was EMPTY? I was like... yikes. was it canceled? Naah... Laura, Jeff and Gabe showed up. :) Was cute... you wait in this little tent with folding chairs, some girl comes in and does a little show singing some familiar christmas songs.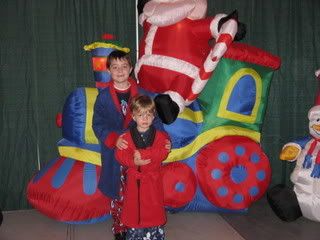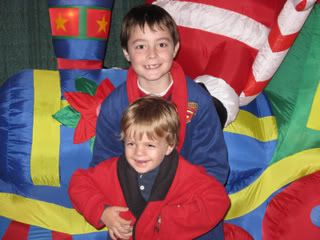 then they asked all the kids to go up front and sing a song, Josh and drew went hand in hand...and for some reason josh got pushed away or something for one that's a little younger...and was cross-armed and pouting off to the side. Drew, however, was in the middle of the action. Over enunciating his words - it was hilarious... doubtful it's on tape but heck... we'll see.
;)
after that we boarded the train and the conductor came through and punched holes in the tickets for us.... (nothing fancy like the movie).... josh was kind of disappointed at that.. he wanted his to say something like they did in the movie.
So... get on the train...get seated.... get some photos.... get moving... get it going... we're there.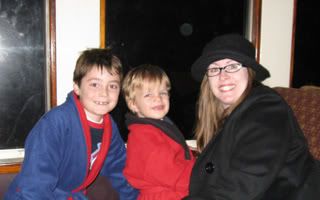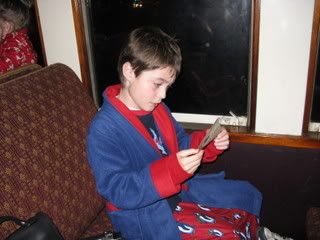 It was fun. It was an experience... it was raining... and cold...and wet.... but all in all ... was a great memory. :)