Up early, eat breakfast, get dressed, coats or no coats, the chance of rain is in the air, who cares, we're going.. got the camera? check... got the stroller? Ooops... nope... do now. Check. Got snacks. Check. Got drinks. Check. Binkie. Check... OK.. now where the HECK are we going! Ha! :) ok
We head to downtown Dallas for the famed Adolphus Children's Christmas Parade. Note to self, next year, get a reserved seat in the bleachers. Ok. Done deal. :)
We find a corner that's not too terribly crowded and a curb we could stand on to have a 12" advantage over those in front of us.
I lent Josh the camera for many of the floats... so the photo quality, or lack of photos, for that matter, does not lie in myhands (thank God... been taking really crappy pictures lately for some reason) :)
Drew was fine...shoulders, stroller, stand, shoulders, stroller, stand... same thing with Josh... whew...talk about a heavy load for the day. :) It was worth it though, they loved it. :)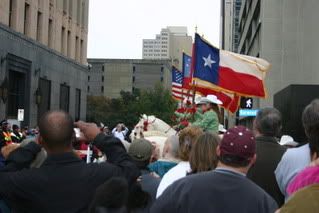 I thought this was the grinch at first -- um... no stupid old lady, it's the Hulk... oops,sorry kid, let me get my bifocals on.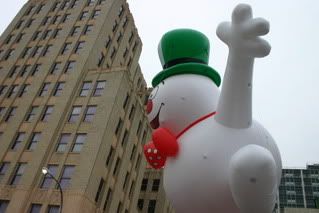 This is by far, my favorite shot