We woke up early today and got ready to meet my best friend Sarah and her son Noah to caravan to the Grapevine Vintage Railroad for a ride on Thomas the Tank Engine. One small stop at the donut store for breakfast (yes, I let my kid sleep instead of waking him up early just to eat becuase he was up LATE Saturday night since momma was out! (with Sarah too -- poor Noah! ha!!)) So, one chocolate milk, one dozen donut holes and two chocolate donuts with sprinkles and we're on the road baby!
We get there, find a place to park and our first stop is a look at the model railroad station. It was pretty darn cool. They had about 6 or more trains going at the same time. I'd love to have a big room to create something cool like that! I guess I am just a big kid! :) Would I want a big room full of Barbies and a huge Barbie house? Heck no! Give me a train room ANYDAY! I think Drew and Noah agree.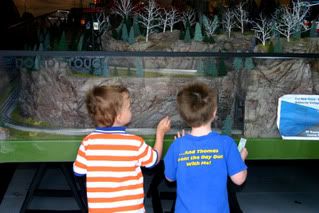 After that we journeyed over to the Imagination Station where they could play with a train set...
do puzzles... and yes, this is the face I get now when I ask for him to smile. :) he loves to ham it up for the camera now.
Then it got close to time to board so we went to the maze of a line they had prepared and these two little monkeys just wanted to get on the train. NO patience... if anyone knows where I can BUY some for my kids, I'll pay my weight in gold for it! :) They were growing quite impatient until we heard the conductor call "All Aboard"... and they were very intrigued...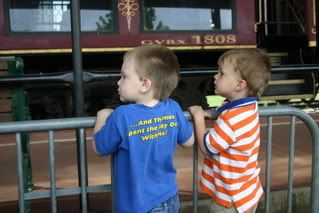 Once on board the train, Drew loved looking out the window...
Smiling at me..
Being a great role model for Noah's future photo sessions...
but mostly just having a good time with his best friend.
And I promise he really IS saying "cheese" in this... he just wants to look out the window.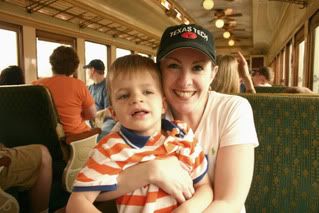 Which I let him do right after we snapped that.
Here's he's saying... SEE YA SUCKERS!
and I just LOVE how this one came out (esp. in black and white!)
After the train ride we went to a little "train" ride that was self propelled. They had a great time.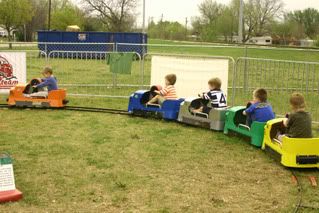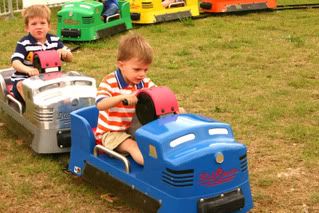 Then we checked out a black smith's shop and of course, made a final stop at the bouncy house. Where he rediscovered how much fun it is to fall down.
All in all, it was a pretty eventful morning. The afternoon was kind of exciting too! :) Shopping at Macy's for pillows! :) They had pillows on sale for amazing prices. And boy were they needed! A stop off at Souper Salad (one of my favorites) for an early dinner and whew...I'm ready for a shower and bed!)
:)