I took Drew to Arby's today for lunch. He wanted his usual "barbie sammich, dish eyes, barbie ketchup, chocolate milk" Ha ha... did you catch that? He is SUCH a freakin hoot with his crazy pronounciation of everything. I was reading the menu and saw that they had fruit punch and asked him if he'd like that in lieu of his usual chocolate milk. He was so excited to get it. We went through the line, paid, got our goods and started to drive away and he was so tired and whiney complaining about being thirsty so I pulled over to give him his juice box. He was SO ecstatic!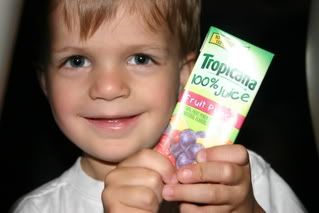 We got to the corner and he started labeling off the fruit on the front of the box asking "what in it"... I said, you tell me. So he looks at this box of fruit juice...
And after telling me the letters on the top... he says grape, cherry, french fryes.
and I BUSTED OUT LAUGHING... FRENCH FRIES?! then after looking at the box... sho nuff... those pineapple tidbits look JUST LIKE french fries! Ha ha... Yum!