This last month has felt like a complete blur. I feel as if instead of being the proactive woman that I am... the list maker...the planner. I became, April, the fire woman. I just felt like I was literally running from place to place putting out fire after fire. This has been one non-stop jam-packed month. I've enjoyed it but I am SO HAPPY THAT IT IS OVER!!!
Yesterday was a whirl wind. Although, I did get to take Drew to the pumpkin patch with his class at school a Monday or so ago (geez, it feels like it's been a month and it was only like 10 days ago), it wasn't my FAVORITE pumpkin patch so I asked my friend Sarah and her kiddos to go with us to ANOTHER pumpkin patch. :) We headed out on Halloween afternoon only to hit some TMS (Texas Motor Speedway) traffic (UGH) and so we got there about 20 minutes later than we'd intended. BUT... it was fun. :) Here's proof.
This is Drew and his buddy, Noah, in the train station before we departed.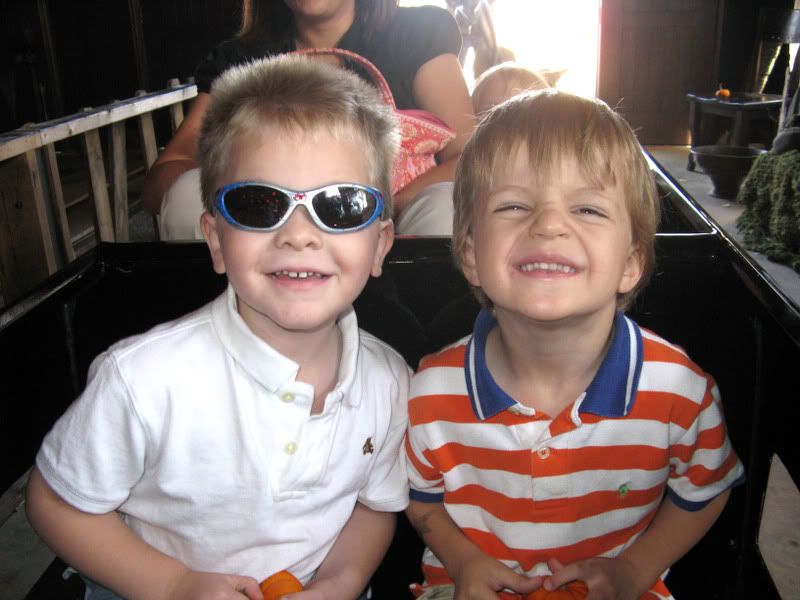 This is our little train ride around to the pumpkin patch.
A horrible picture of me but hey, it's the best I can do when a) he's supposed to be SITTING in the seat behind me and b) the train is moving and c) I'm the one who always has the camera!
Tell me THIS doesn't look like they're having a blast?!
Very cool pirate ship set-up.
Dragging the wagon around that carried ONE mini, palm pumpkin.
I swear these inflatable jump-on/obstacle courses look like some kind of inflatable anatomy system... and this is Drew entering the esophagus.
...and so I guess this is him coming out of the... ewww.. nevermind.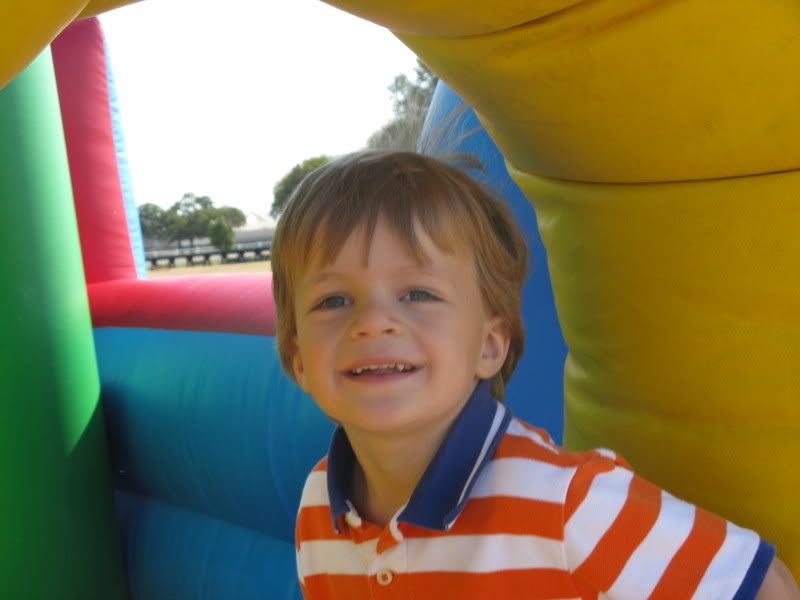 Loved the slides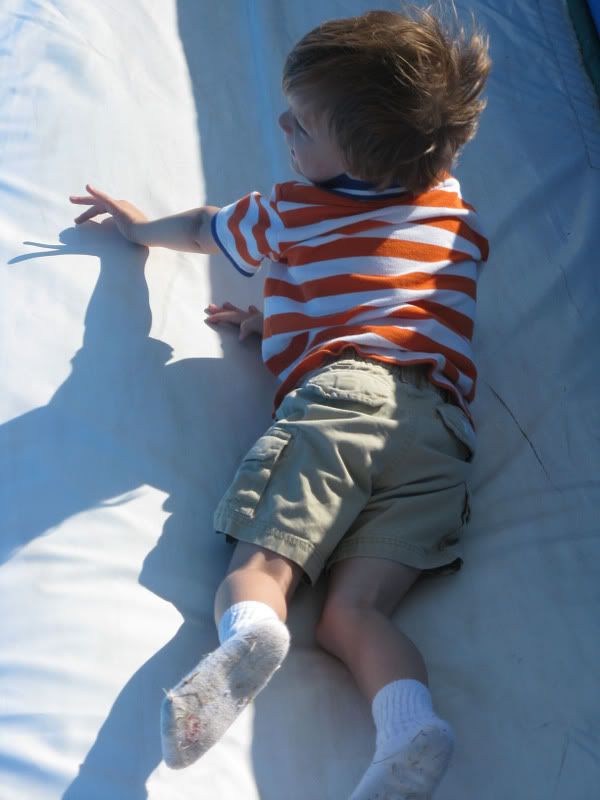 THE Pumpkin Express
I loved this picture, not because it's super high quality...but because Noah and Drew are in the hay maze. And they're BOTH in the same shot... Noah - left and Drew - right.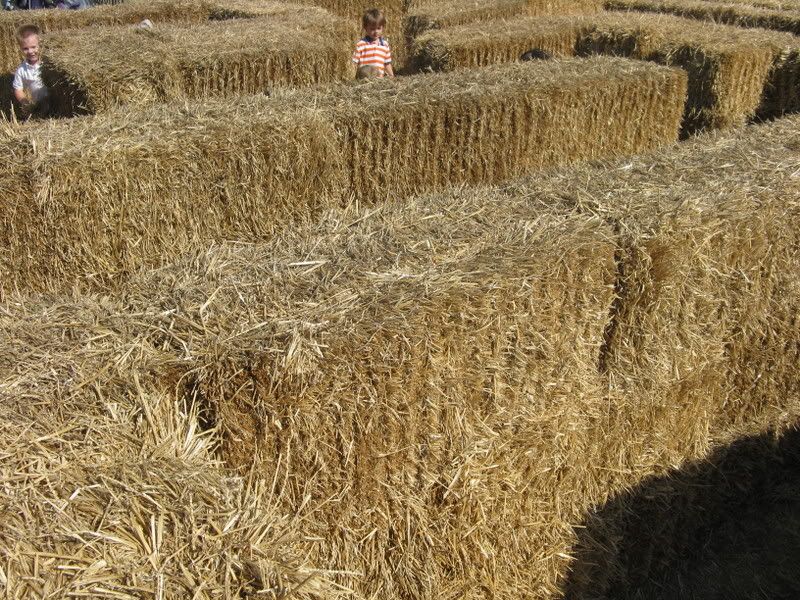 He loved crawling through the old petrified log.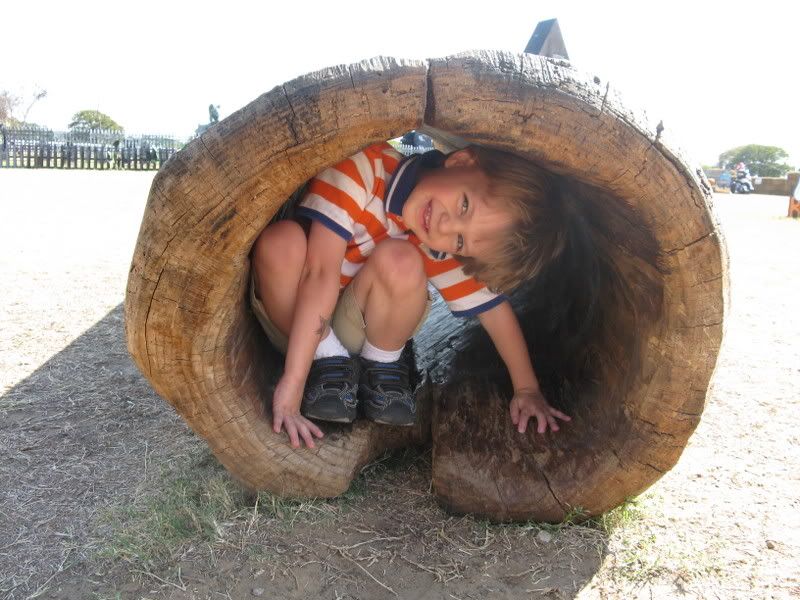 We walked over to get some hot dogs and drinks and the boys got painted (Drew won't let someone paint his face but he did get a ghost on his arm). Then when we were leaving we were getting dive bombed with bees. He FLIPPED OUT. I think they were attracted to the foil on the hot dog so I wadded it up in a ball and hid it in my pocket and we seemed to be okay after that. It was really a scare for him though. Poor kid, he totally gets it honestly but he had two LAND ON HIM and... that'd freak me out! :) We came home and I went STRAIGHT to work on Josh's costume. :)
If you ask Drew what they were for Halloween, he'll tell you they were the "mummy brudders." :)