Both boys are in gymnastics on Tuesdays... I had to be on a waiting list for several weeks to make that happen but after a brief hiatus for them both, when signing them back up, Josh needed to be in Level 2 and Drew was going to start out in the 3 year old class (before he was 3)... which means, no more mommy on the mat to chase him around -- he had to listen to his teacher! (Yowza). :) Well, as it goes to show from the pictures below (ha), listening and doing what youre told remains to be seen but at least he has a good time while he's there.
Drew and his little class coming from circle time... they all like to run their fingers along the wall and shout out to their moms to "watch me" or "hi mommy"
Then there's Drew on the wedge doing a somersalt -- the picture quality sucks... because the lighting there sucks...so hey, work with me... :) regardless of the lighting, they really ARE Kodak moments! LOL
and then we think Josh is actually doing something worthwhile and he's just hanging around
(ha)
This is one of Drew's station - practicing balance doing an arabesque
various bear crawls on the bars
and then they teach Josh to demonstrate how he'll look if he eats too much fast food and gets no exercise
and then Drew just didn't like that news because he's a big fan of the Golden Arches so he went to pout in his giant donut (too bad it's not powdered from Mrs. Bairds)
Time is running to an end....they all sit at the edge of the mat and get stickers, stamps and progress reports
and then they take their papers and go to the wall's end and say "ta da"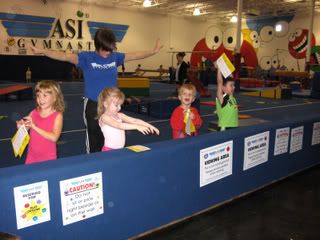 notice, he just chose to scream. :) Gotta love this kid!