A friend of mine at
Southern Sassiness
always posts a "Menu Plan Monday." I thought, what a neat idea so I'm tagging on with this idea!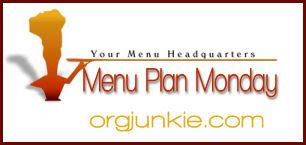 You post your weekly menu -- helps if you lose your list a lot (like me). So, here goes nuttin'
Monday:
Breakfast:
Baked French Toast
Dinner: Chicken Spaghetti, garlic crescent rolls and a mixed veggie salad
Tuesday:
Breakfast: Potato and egg or bacon and egg taquitos with cheese and salsa
Dinner: Hamburgers with whole wheat rolls and all the fixin's
Wednesday:
Breakfast: You choose (cereal)
Dinner:
Quick Chicken Cordon Bleu
, rice, steamed broccoli
Thursday:
Breakfast: scrambled eggs, sausage, biscuits and gravy
Dinner: Leftovers! (Gotta love Thursdays!)
Friday:
Breakfast: Pancakes, bacon
Dinner: Spaghetti, caesar salad, hard rolls
Saturday:
Breakfast: Oatmeal, toast, fruit
Dinner: I HAD it was going to be tacos and/or taco salad but my dad is coming over for dinner now for his 62nd birthday and so I have to think of something fantastic to make! :) I will be making, by request, my deliciously, dense, moist and WONDERFUL carrot sheet cake with homemade cream cheese frosting. It's DELISH!
Sunday:
Breakfast: My trusty yummy standby
Sausage casserole
Dinner: Potato Soup with crusty rolls and fresh veggies