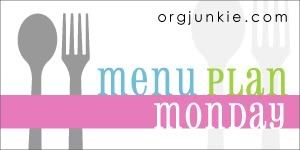 I'm back on my strive to be the ultimate domestic diva! It starts this week with the infamous Menu Plan Monday. Here are this week's worth of divine dinners:
Monday:
Creamy Mushroom Chicken (crockpot)
Tuesday
: Steak
Wednesday:
Quickie chicken quesadilias
Thursday
: Stuffed shells florentine
Friday:
Grilled chicken caesar salad
Saturday:
OPEN (I can hope to go out to eat this evening!)
Sunday:
leftovers
So far... so good.