Today is the big day -- Drew's Christmas musical. :) I so look forward to this every year. And every year, some how, Drew and his buddy Austin (seen here in plaid - isn't he a cutie?)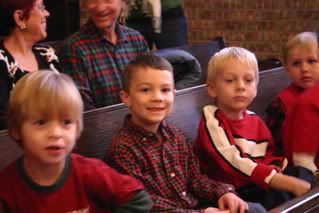 ...wind up next to one another and make some sort of scene (silly and adorable, but albeit a scene). :) This year was no exception. :) I don't have a digital video camera so I can't share it with you but... it was still adorable. :) Josh, since he's now being homeschooled was there. Andy came as well as his parents and my father came as well. And, as always, we sit in the balcony with Austin's parents... I just adore this family! Just adore them! My pictures didn't come out too well. I need new batteries for my camera and the lighting from the balcony stinks when you're trying to get a crisp shot WITHOUT a flash.... I really need to learn to use the darn thing!
Here is Drew and one of his teachers before their big moment.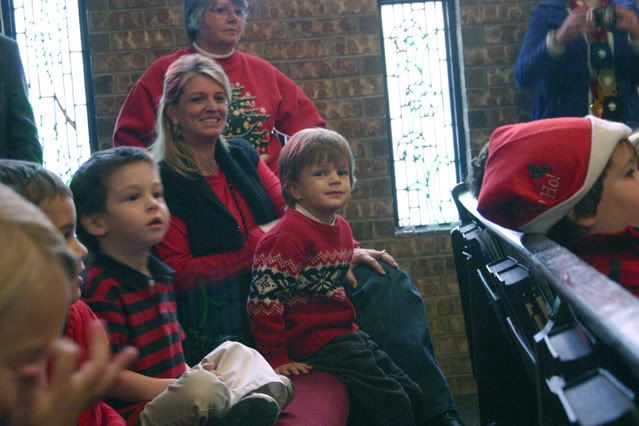 and I was shooting video so I have none of the event itself -- relying on my friend Heather for those (hopefully) but here is a shot as he's leaving the sanctuary.
After that, I headed over to MonArt to let Joshua try out an art class there. The Basic Elements of Drawing or something like that. He came out of there with an awesome shadowed dragon's foot... and a desire to go back. I think it's pretty cool and I love to foster whatever he's interested in. If it's drawing, I'll sign him up for drawing. So, we'll see how it goes! I'll scan in the foot at a later time and post it here.
Later that night was out to eat at the Red Lobster, which Drew affectionally refers to as the "Crusty Crab" (gotta love how Sponge Bob just squishes into every element of your life SOME HOW! And then today's finale... Drew's first Maverick's game! He had a BLAST! Josh had his binoculars and was staring at Shaq's feet but Drew was more blown away by the halftime show, Quick Change, than anything. This is it... way cool. I would LOVE to know how the heck they do this!