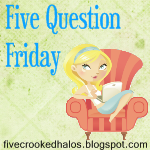 1. Do you open presents on Christmas Eve or Christmas Day?
It depends really. Joshua is only with me every other Christmas. He is HERE this Christmas so we will open ONE gift on Christmas Eve (new pj's) and then the rest on Christmas morning after we have Santa and breakfast.
2. What is your favorite Christmas cookie (or candy)?
My favorite Christmas cookie definitely has to be iced sugar cookies. I like the kind that aren't crispy... with a bit of softness and thickness to them and a glazed frosting on them that has a hint of almond.... mmmmmm
3. What's the worst Christmas gift you've ever received?
A package of "granny panties" when I was a freshman or junior in high school probably. They were from an 80+ year old woman so she probably didn't know any better.
4. Christmas song that you love?
Blue Christmas by Elvis or Santa Claus is Back in Town... again, of course, by Elvis.
5. How many trees do you put up?
I put up one but the boys each have a tree in their rooms and then there is a spinning, multi-colored tree in the playroom that is usually upstairs but isn't because there's a baby swing in its place.