We had a fantastic feast for my birthday. Andy grilled steaks that I bought today from Central Market. I made some of the most flavorful
sauteed mushrooms
I think I've ever tasted. Throw in some grilled asparagus, and some loaded baked potatoes and you've got yourself a birthday meal fit for a king (or a queen, in my case!)
Since I didn't pick up a cake mix, I searched Allrecipes.com for a suitable "from scratch" white cake mix and threw that together with some homemade icing/frosting (whatever you want to call it). So, yes, I made my own birthday cake. The cake itself wasn't as light and fluffy as I like so I'll keep trying to find a from scratch white cake that I can make that is as moist as Betty Crocker's version.
After dinner, since the weather was beyond beautiful, the boys decided that they were going to have a camp-out. So, on December 20, in Texas my boys were camping in the back yard! Whoda thunk it!?!
I went to bed extremely restless and unable to sleep. I felt like a neon sign was over my back porch with a huge arrow pointing to their tent just inviting some psychopath to come steal my children. Call me crazy, but that's just the society we live in now. I got up all througout the night to check on them. I cracked my window so that I could hear everything in the back yard.
Josh did have his phone with him and the next morning he sent me these cute photos.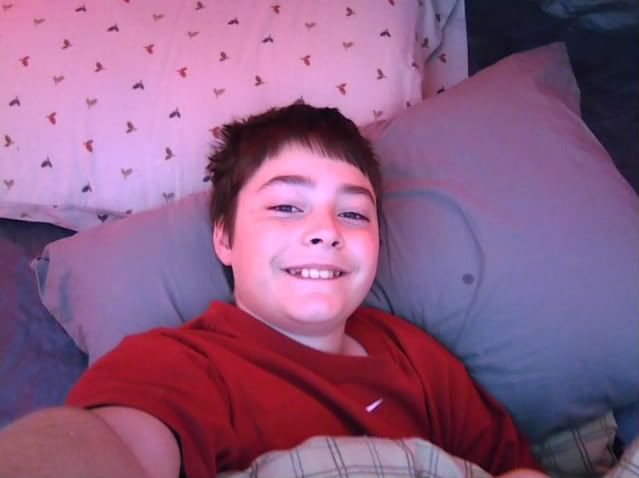 My little birthday campers. It was truly a birthday gift that they are becoming such great friends (most of the time... I mean, after all, they ARE brothers!)