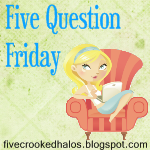 Rules for 5QF: Copy the following questions to your blog post, answer them, then watch for the linky to appear Friday morning and link up!!
Oh, and make sure you have lot's of fun, too!!
Questions for Friday, December 3rd:
1. What's on the top of your holiday wish list and why?!
It's kind of funny that I really don't spend on myself throughout the year on anything, really. But, around Christmastime I feel is just THE time that I'm allowed to splurge a little... on me. Truth be known, nowever, I don't really have anything that's a superior WANT that I just simply pine for. I'd like a few random things... I'd love another lens, lots of Cricut cartridges, The Pioneer Woman Cooks cookbook, some long sleeve v-neck t-shirts, new pj's and slippers and a few random sweaters but??? truth be known, I'm okay with none of those things.
Now, don't get me wrong, if money were no object, I'd have my wedding ring replaced and hardwood floors put in my bedroom.
2. What is your favorite Christmas gift from the past?
Hmmmm "favorite" is such a hard word for me because it's soooo exclusive. I can't really think of one singular gift that was so spectatcular that it stands heads and shoulders above all others. I can think of some of my favorite moments relating to gifts... like the year I was in 4th grade and I wanted to collect miniatures. My dad sent me all over the house on a scavenger hunt to find a new printer's tray to hang on the wall to house all my miniatures. I was beyond thrilled. The memory of the scavenger hunt was so much fun for me that even to this day I recall just how much fun it was. By the way -- I STILL have that printer's tray. It's that special to me.
3. If you had life to do over, what would you be when you grow up?
This is where I'm supposed to say something like a writer or a lawyer or even a doctor who cures cancer or a missionary... perhaps even a teacher or police woman but, no, I'm going to have to say that I'm actually doing exactly what I want to do when I grow up... being a mom... being there for my kids, creating special memories, fostering togetherness, going to class parties and field trips, making labor-intensive recipes, baking homemade bread and cookies from scratch (never from a package) and all that good stuff.
4. When do you put up your tree?
I'd like to say it happens on Black Friday but it never does. It should since I have all the help here and it's a long holiday weekend. It never works out that way. It is typically up the first week of December, however.
Now, right now, it IS "up." It's not decorated or even LIT for that matter, but it's up!


5. What is your favorite Holiday? I love all holidays because of the memories created but I will have to say that Christmas is my favorite, followed closely by Thanksgiving and Halloween.
Christmastime is just so fantastic... the songs... the colors... the twinkling lights... the anticipation... the story of Jesus' birth. It's all so mesmerising.
I adore my house when it's fully decorated for the season! ADORE IT!