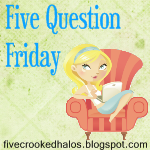 Rules for Five Question Friday: Copy and paste the following questions to your blog, answer them, then watch for the linky post to appear Friday morning! Feel free to answer in the comments if you don't have a blog or already wrote a post (although, for the record, I leave the linky open until Sunday, so you have plenty of time!!) ;)

Questions for Friday, October 29th: (Special thanks to Bethany, Sandy, Pam, Jesslyn, and Jill for their question suggestions! If YOU would like to be linked in a future Five Question Friday, c'mon over to my community and offer up your best question suggestions!)

1. If you could be a fly on any wall, which would you choose? You know, I really don't know. I'm not real hip on eavesdropping or butting in on other people's business. Now, if I'm drug into it, then yeah, but otherwise, no. Probably something to do in the White House...

2. Do you budget your Christmas shopping or just get it done without budgeting? I just get it done. I'd like to have a budget but... you just never know, man.

3. What is the craziest fad diet you have ever done? Geez, I'm boring today. I don't do fad diets.

4. Is there a TV show that you have seen every episode/season of? Seinfeld. That is/was THE best comedy -- ever. I mean... EVE-UH!

5. What one song always pulls at your heart? Music is a big part of my life and who I am. I love it that much. There are several songs that pull at the ole heart strings. Probably one of the first that comes to mind is "Angels Among Us" by Alabama as it was selected by me to play at my grandmother's funeral. Along the same lines, "I Can Only Imagine" by Mercy Me. Ugh! Or, "Don't Laugh At Me" by Mark Wills because it captures the very essence of what people do in general -- speculate before knowing the truth or even wanting to take the time to invest in another person.
How about, "Return to Pooh Corner" by Kenny Loggins? It always just brings me to tears...
Here are the lyrics... see if you have children and can even READ them without getting teary eyed and reminiscing about your little ones...and how fast and fleeting these days are with them.
Christopher Robin and I walked along
Under branches lit up by the moon
Posing our questions to Owl and Eeyore
As our days disappeared all too soon
But I've wandered much further today than I should
And I can't seem to find my way back to the Wood

So help me if you can
I've got to get back
To the House at Pooh Corner by one
You'd be surprised
There's so much to be done
Count all the bees in the hive
Chase all the clouds from the sky
Back to the days of Christopher Robin and Pooh

Winnie the Pooh doesn't know what to do
Got a honey jar stuck on his nose
He came to me asking help and advice
And from here no one knows where he goes
So I sent him to ask of the Owl if he's there
How to loosen a jar from the nose of a bear

It's hard to explain how a few precious things
Seem to follow throughout all our lives
After all's said and done I was watching my son
Sleeping there with my bear by his side
So I tucked him in, I kissed him and as I was going
I swear that the old bear whispered
"Boy welcome home"

Believe me if you can I've finally come back
To the House at Pooh Corner by one
What do you know
There's so much to be done
Count all the bees in the hive
Chase all the clouds from the sky
Back to the days of Christopher Robin
Back to the ways of Christopher Robin
Back to the days of Pooh
Click here to see the video of Kenny Loggins singing it on You Tube
Copy and paste the following questions to your blog post, answer them, then link up to My Little Life! Come join the fun each Friday at My Little Life