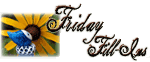 So...here we go!
1. One of my strongest beliefs is
that karma will get you in the end. You know, the whole "what goes around comes around" theory. Yeah, that one. And, you know, it just better because man, I've missed out on TONS of retaliation just because of that 5-letter word
.
2.
The price tag on the camera, lens and processing software I desire is amazingly
huge!
3. The sky is cloudy with a threat of rain and wind and cold, so
let's stay inside and have movie night! I'll make some nachos; you grab the blankets
.
4.
Silence
is comforting to me.
5. I always thought I'd be
a teacher... Okay, let me rephrase. I always thought I'd be an educator in the school system. I never realized that being a mom IS the greatest teacher a child could ever have.
6.
Josh came in from football practice talking about the moon and wanted to grab his telescope. He went
and then I went outside to look at the full moon
with him
.
7. And as for the weekend, tonight I'm looking forward to
going to the Fort Worth Christian football game because Josh is in the half-time "Kick, Pass and Punt" contest (currently in first place!)
, tomorrow my plans include
a t-ball game for Drew, a football game for Josh (which means I'm taking pictures)
and Sunday, I want to
take Drew to the Spooky Kooky Castle at the local park here in Keller,

ge
t my week planned, my Christmas notebook finished, my menu complete, my grocery list done, my Scout's next two meetings finalized and bake come cookies
!