This year's Cub Scout Day Camp was themed Medieval Times. It was fun (for the most part) but one of the highlights was that they had the knights from Medieval Times come out to open the ceremony on Monday. They also coordinated an awesome group rate for any Scout from the Longhorn Council that wanted to attend with his family to go see the tournament. It was really good.
We went with another family that just also happens to contain Josh's best friend, Thomas, and my dear friend, Leigh (Thomas's mom). :) And, hey, the dad ain't a half-bad guy either! :)
Josh and Thomas before the show. This was only one of the bad parts of the whole thing. It was like 105 outside and we were standing in the shade but because they had to do their opening, we all had to go stand in the sun and ROAST for like 15 minutes. It was BRUTAL!!!
This is a bad photo of the boys taking a class before the tournament on how to fight with a sword. After this was over, the king himself, knighted all participants.
Prince Driggers roots for the yellow knight (you root on the knight based upon your hat color)
The Royal Family before the dinner and tournament.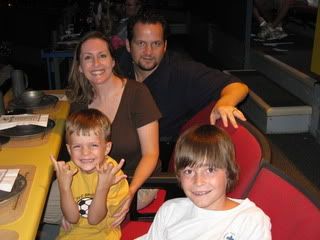 The Chancellor that started the show and hosted the tournament (and also the cool guy that went back to the employee's locker room to get Drew a bag of chips from the vending machine because he was in full "starvation fit" mode. :)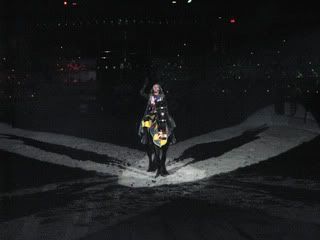 The knight we rooted for... he "died" by the way. Never wear yellow and think you'll come out ahead. Never happens.
The pagentry and horsemanship was admirable. This was the opening ceremony.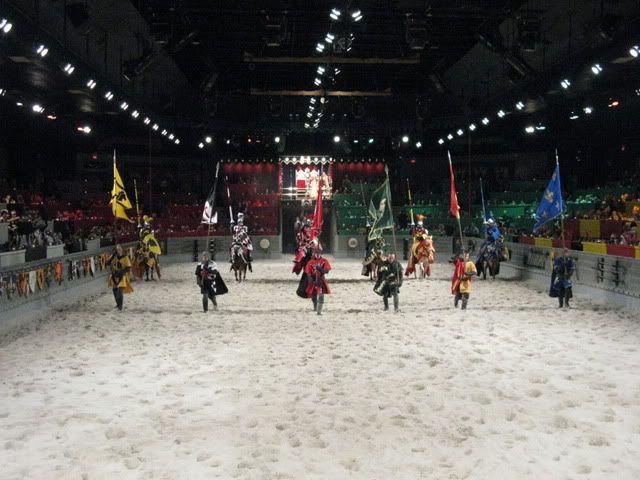 Drew wanted NOTHING of the pagentry, however. He wanted them to "blang each udder." He wanted a sword fight and he wanted it NOW! He did like the jousting...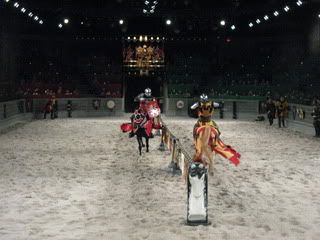 The meal wasn't too bad, either. The first course was a pot of tomato bisque soup followed by a piece of garlic bread. Then they brought out 1/2 a rotisserie chicken, a couple of pork ribs and a roasted potato half. Dessert was a flaky apple filled pastry. No silverware is provided but after the meal, they graciously provide a warm towel that sufficiently gets the grease off of your digits. I did well, by not eating the rib, bread or pastry and only about 1/3 of the chicken (white meat only). It's good to have self control! :)