Got up, worked a little, and little man and I had a day! We didn't do a whole incredible lot but we did something. I was going to take him to the movies but he didn't want to go. He was in full-on puzzle mode today. That and we watched "Lots and Lots of Firetrucks" about a half-dozen times. If you have a child that likes fire trucks, this DVD set is a MUST! They'll be entertained... and singing the songs. It's TOTALLY adorable! :)
I swear Drew's going to be a fireman now! :) And it's really neat -- one of the songs says, "When danger caaaaaallllls, all you need is a heeeeeeeero" and he just sings that song at the top of his lungs... and says "he my hero, is he?" :) I love how he words his questions... it's not, "Isn't he?" It's, "Is he?" So cute!
I was somewhat productive. I hung mini pennants along the ceiling front of his and Josh's playroom. I'm liking the progress I'm finally making in there! :)
I need curtains... any one have any ideas on what kind of curtains? :) Ha ha..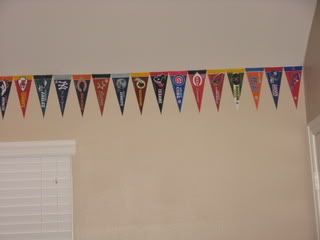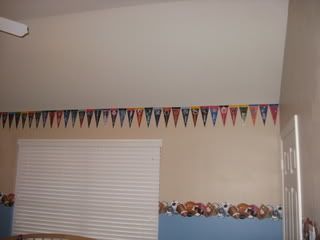 and these are the larger more traditional sized pennants... they're going to be arranged "pizza style" on this wall. :) just need to figure out whom all to purchase... these three were a given. I say the Broncos... (of course)... the Steelers... just cuz their coach was always such an aewsome guy... and then I'll take input on the rest lol... JUST KIDDING...