Told ya I had some pics to share! This isn't for the faint of heart either!
First off, you'll have to remember all the transition my home was ALREADY IN because of the arrival of bambino numero tres next month. We have been purging the attic of all things "infant" so that it can be washed, prepared, set in place, etc. It also has meant getting rid of our formal living room (which was never really used anyway) so that it could become the formal dining room. It meant moving the playroom into what was once the formal dining room. So, I have had tubs and tubs and buckets of stuff already out and all over the place... so now couple that with having to move EVERYTHING out of certain rooms... and away from all the walls so that the crown molding and trim could be painted. It's been a true test of my patience and sanity. With only one mommy meltdown, I think I did okay.
Here is the chaos in which I've been living. This is the family room which honestly, isn't THAT bad even though all the trim was wet and all the furniture was pushed together so that you couldn't even get TO it TO sit down upon it. I failed to take a photos of the ceiling in here, it's painted a really light tan now so that the crown molding really pops! But, really, it wasn't THAT bad....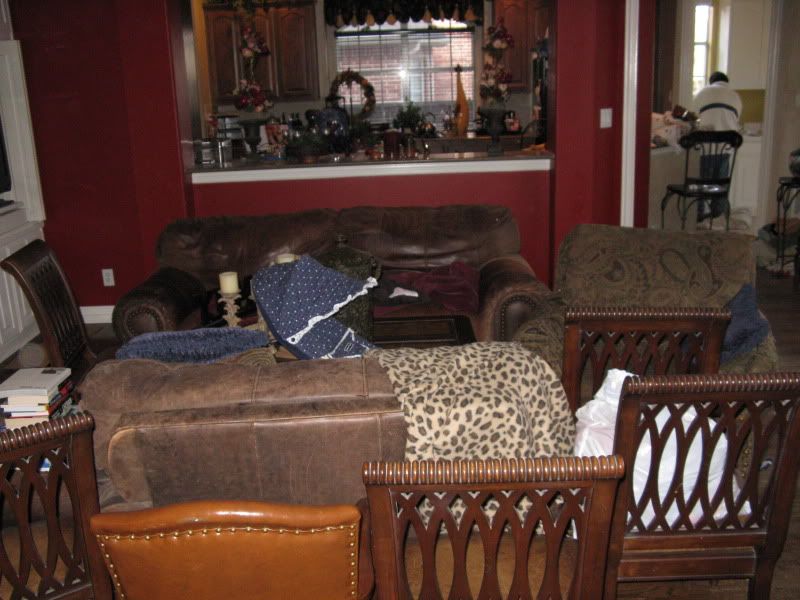 ...however, my formal dining room begs to differ!
Another view of the formal dining room table.
The playroom that is unable to be played in (for now) since everything has to be right in the dead center of it since this room was painted in its entirety. I'm hoping this weekend we venture to IKEA to get the entertainment center that is going inside and just get this room FINISHED! That'd be a dream!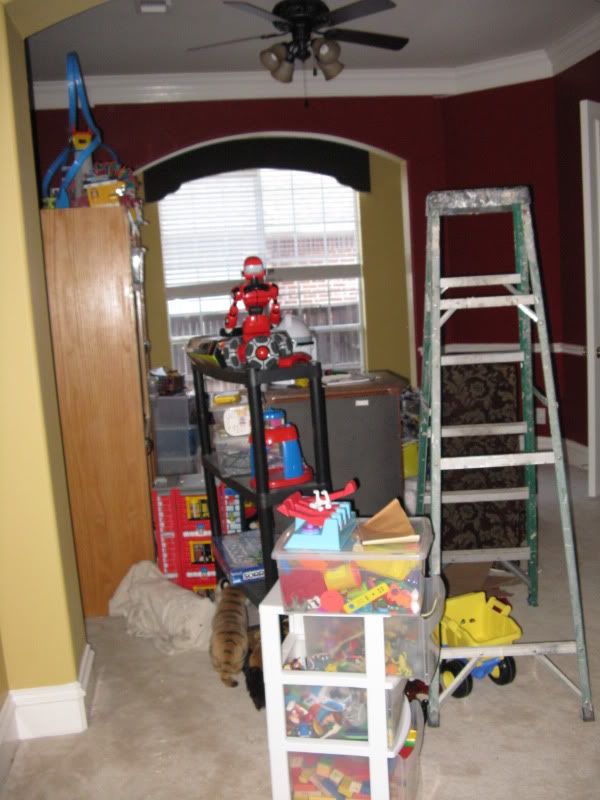 This is the entrance to my scrapbook room. They painted the top half of the walls in this room as well. The bottom is a chocolate brown. And oh my GOSH does that tree ever need to be taken outside and hosed off! YUCK the dust!!!!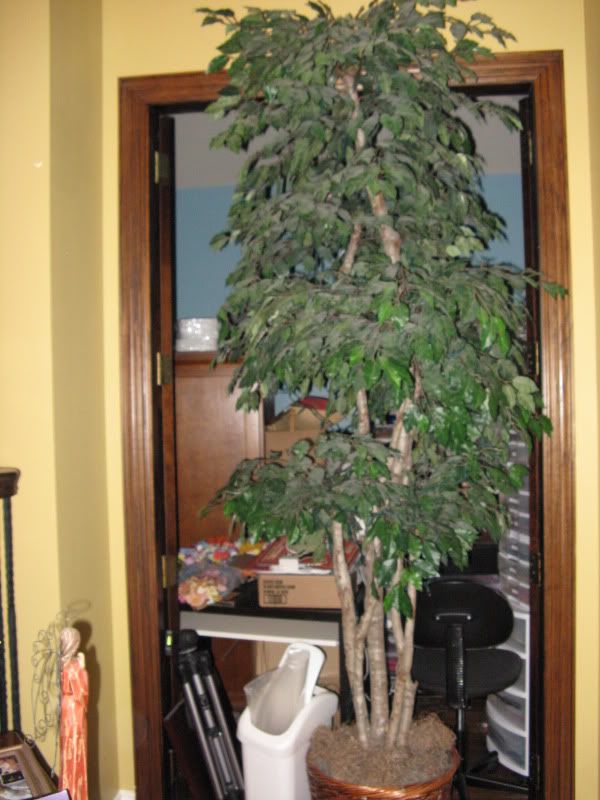 This is a peek INSIDE the cave of my scrapbook room... see? Mass chaos!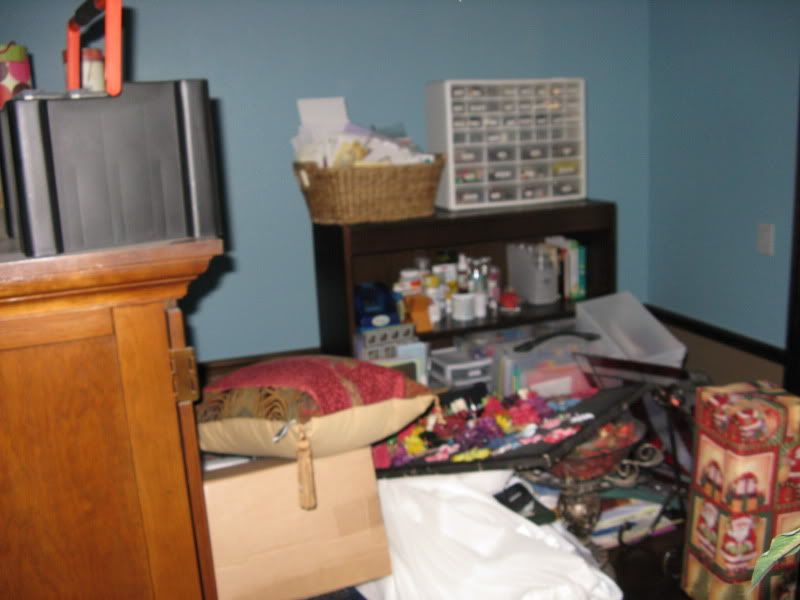 The pictures don't do the color choice justice... it's really a beautiful color!
This is from the top of the stairs looking down the hallway to the hallway that runs to the boys' rooms.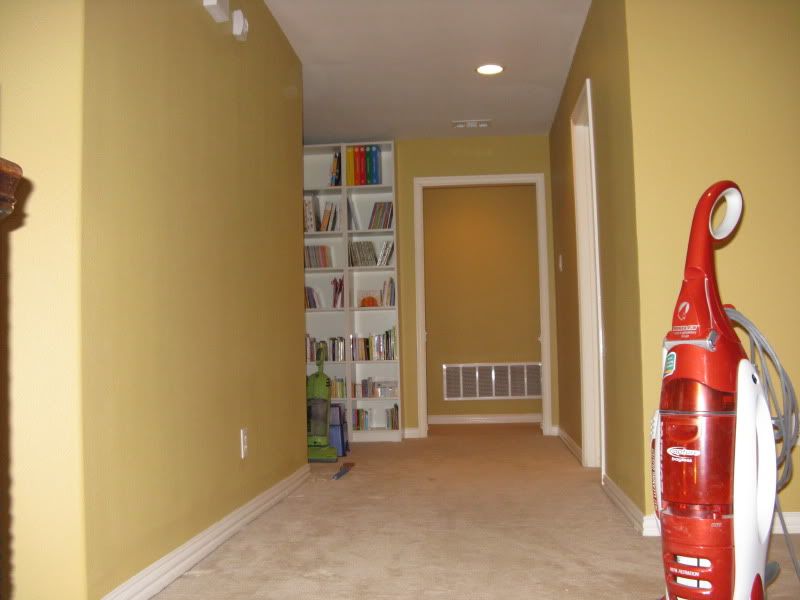 First door on the right is to the "man cave" or the "testesterone zone" as I like to refer to it.
And HERE are my beautiful IKEA Billy bookshelves that have were built by my father (with some help from Joshua) to house our children's library. I am SO lovin' these!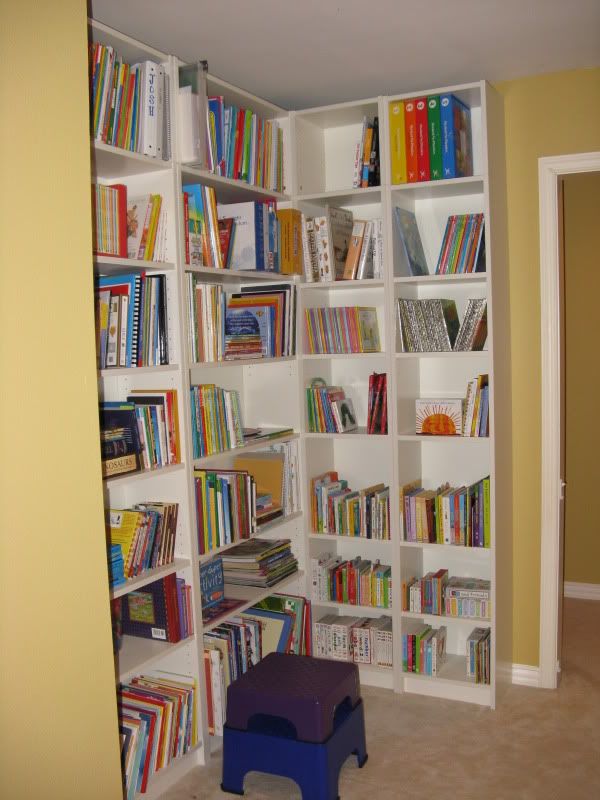 BUT....regardless of what we've gone through just having THIS small cleared space, made me smile.... doesn't this foyer looks inviting now? (even though it doesn't have my floral, table or photos back up yet!?!)
In between moving stuff for the painters, my dad helped Joshua COMPLETELY rearrange his entire room. They removed his top bunk and stored it in the attic. He completely moved the attic around so that I could actually PUT the bed (disassembled, of course) in it. It's just AMAZING. He also helped him REALLY clean it! It's ... a mother's dream! (Between you and me, I really wonder how long it will STAY this clean?) I have a photo for him to use as a reference point of "clean" however so he's screwed!!
And, I had to put this up here -- one of his favorite Christmas presents--KISS potato heads! LOL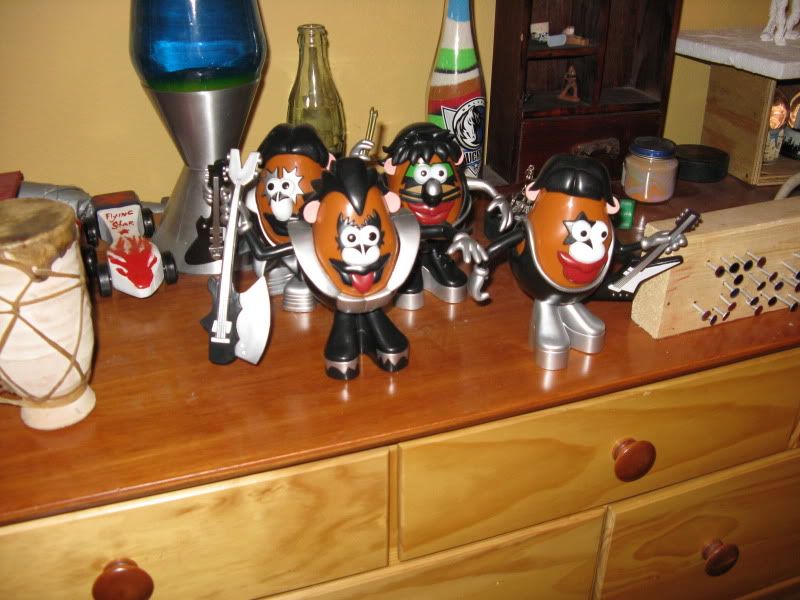 I will put better photos up when it's actually all back together and I didn't take photos of the kitchen island yet or of my bathroom. It looks AWESOME though! :)