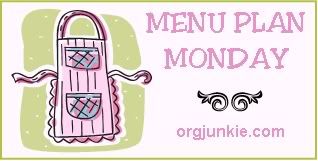 I'm excited to know that I can actually have a plan this week. The last two weeks have been so ridiculously unstable with Spring Break and the whole OAMC thing, sports practices, etc. that I knew it'd be ridiculous for me to even try! But we have a plan this week -- woo hoo! Recipes marked with ** follow below the plan. Enjoy!
Monday
B: sausage, biscuits and gravy
L: soup/sandwiches at home
D: Fettuccini Carbonera** and foccacia bread (carb overload!)
Tuesday
B: Waffles and bacon
L: OPEN
D: Stuffed Shells Florentine**
Wednesday
B: cereal, juice, toast
L: leftovers
D: Cheese enchiladas**
Thursday
B: taquitoes (eggs, cheese, tater tots and salsa in flour tortilias)
L: Subway
D: Sausage, cornbread, pinto beans
Friday
B: oatmeal, fruit
L: leftovers
D: OPEN
Saturday
B: eggs, toast, fruit
L: lunch w/Mimi and Pop after an egg hunt for their HOA
D: something on the grill
Sunday
B: OPEN
L: OPEN
D: OPEN
****I'm leaving Saturday and Sunday both fairly flexible since we're not sure what our plans are yet (it all depends on this bizarre Texas weather)
Fettuccini Carbonera
1/4 c. butter
1 lb fettucini
4 eggs
1 cup grated Parmesan cheese (the kind in the plastic jar with the green lid)
1/2 c. whipped cream
1/4 c. parsley
8 oz bacon
Pepper

Directions:
Let the butter, eggs and cream stand at room temperature for 2-3 hours. Cook bacon until brown, drain and crumble. Heat serving dish in the oven at 250 degrees about 10 minutes (I actually use a huge metal stock pot to mix it in and so I put THAT in the oven instead of a typical "ceramic or glass serving dish." At the same time, cook the fettuccini in water for 15 minutes. Beat the eggs adn cream just until blended. When pasta is tender but just slightly firm, drain in collander. Toss pasta and butter in heated serving dish. Then pour in egg mixture and toss to coat. Add bacon, cheese and parsley and again, mix until well coated. I find using a pasta serving spoon to mix this works best. Serve immediately. It's DELICIOUS! We NEVER have any left over!


Stuffed Shells Florentine
(this is mostly adapted from the Pampered Chef's Main Dishes recipe book)

box uncooked jumbo pasta shells (I use the whole box since I find many do break and/or tear so to specify a certain number is silly)
15 oz part-skim ricotta cheese
10 oz package frozen chopped spinach, thawed, drained and squeezed dry
2 cups Italian cheese blend, divided
1 1/2 cups half-and-half, divided
1/2 cup fresh Parmesan cheese, grated
2 tsp. minced garlic
1/2 tsp dried basil
1/2 tsp dried oregano
1/4 tsp salt
1 large jar of Prego Fresh Mushroom spaghetti sauce (LARGE jar)

DIRECTIONS:
Preheat oven to 350. Cook shells according to package directions; drain. Next, I use my stand up mixer for the following: In a large bowl combine the ricotta cheese, spinach, 1 1/2 cups of the shredded Italian cheese blend, 1/2 cup of the half and half, 1/4 cup of the fresh Parmesan cheese, garlic and dried herbs. mix well and set aside. In a smaller bowl, mix the spaghetti sauce with the remaining half and half (sometimes, I even add MORE! GASP -- makes it SO creamy) until blended. Pour about 1/2 into the bottom of your baking dish. Then using a small scoop, fill each shell with the cheese mixture and set into the baking dish. Once all the space is full, pour the remaining sauce over the shells and then sprinkle with the remaining Parmesan cheese. Cover, bake 40 minutes. Remove the lid and sprinkle with the remaining Italian cheese blend shreds and cook about 5 more minutes. Remove from oven and let stand about 10 minutes. DELICIOUS
Cheese Enchiladas
1 package of corn tortilias
veggie oil
1 box of Velveeta cheese (I use 2%)
1-2 large onions, diced and sauteed
1-2 # hamburger meat, browned
1 package of Williams chili mix (it's in a silver package with all the gravy mixes)
1-2 cans of diced tomatoes

Tools needed: tongs, 9x13 baking dish, frying pan, sautee pan

Directions:
Dice and saute onion in a Tbsp or two of oil. Set aside. Cut the cheese (no pun intended) into 1/2" pieces and then cut that piece into thirds making little strips of cheese. To prepare the corn tortilias for rolling, heat up some veggie oil over medium heat in a shallow frying pan. Insert one tortilia and make sure that it is fully submerged. You want it to be saturated but not "cook". It will start to sizzle -- remove it immediately. I place mine into a glass pie pan. Set aside to cool. Begin cooking the hamburger meat. Once it has been drained, add the diced tomatoes, about 1/4 cup of water and the chili seasoning mix. Simmer for a few minutes. Now comes the assembly.

To assemble your enchiladas you'll take your plate/tray of prepared corn tortilias and insert two of the cheese strips in the center. Spoon in as much of the onion as you'd like and then roll it up. Place it lengthwise in your baking dish. Once you've filled all the space in your baking dish, pour the chili mixture over top. Cover with foil. Bake at 350-375 for about 30 minutes.
Looking for more menu planning ideas? Check out where I'm linked: Org Junkie's Menu Plan Monday