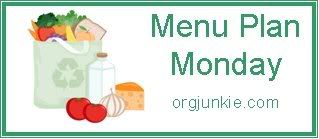 A hearty hi-ho to everyone this week! It's going to be a BUSY one this week so I'm looking for easy schmeezie and convenience! I've got too many irons in the fire and don't want to drop any of the 6,532 balls in the air that I'm currently juggling.

Monday:
B: Cereal
L: Lunch w/daddy and the boys
D: Burgers (I bought these AWESOME burgers from Central Market that have all the ingredients inside them... mine is a bacon cheddar burger. I got hubbs the one that has jalapeno and some other "stuff" in it. The boys like plain Jane burgers so they get that!) Lettuce, tomato, red onion and baked beans! Drew picked out some double chocolate chunk cookies to go with it for dessert. (yuck! I'm not a chocolate fan!)

Tuesday:
B: Sausage, homemade biscuits (Bisquick recipe) and gravy
L: Egg salad sandwiches, chips
D: Chicken a la king

Wednesday:
B: Cinnamon Rolls (I'd like to try The Pioneer Woman's recipe but not this week!) and Pigs n blankets w/juice
L: Leftovers or frozen dinners (Healthy Choice/Smart Ones -- cleaning out the freezer!)
D: Chili with fritos, cheese and onions

Thursday:
B: Taquitoes (flour tortilias, eggs, cheese, tater tots, sausage)
L: Subway (it's a weekly tradition)
D: OPEN (my son has football practice from 5:45 - 7:45)

Friday:
B: Pancakes, bacon
L: chicken nuggets/strips (whatever is in the freezer)
D: Nachos (big huge chips, refried beans, cheddar cheese, jalapenos, pico, guacamole, I'm in complete YUMMINESS)

Saturday:
Josh and I will be camping with our Webelos den at Sid Richardson so I'm leaving this up to the boys at home to do whatever they want. I'm sure it will be a visit to Drew's favorite breakfast restaurant "The Snooty Pig" for some pancakes and bacon or his all-time 2nd favorite -- DONUTS!! Josh and I will be eating breakfast burritoes, sandwiches/chips for lunch and then foil pack (a.k.a. "hobo burgers") at the campsite.

Sunday:
B: Breakfast at camp -- Boil in a bag omelettes (teaching the Webelos how to cook this will be fun!)
L: Josh and I will grab something on the road going home from camp as he has a 2-4 football practice to be ready for.
D: We're having a cookout with the football team.