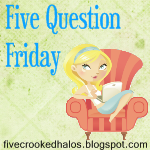 1. What is your best secret cleaning tip? Don't have children.... or dogs...
If I have to list something to help those who already have ruined that notion, I'd say that using Cascade dishwashing detergent to clean the ring around the sink works heavenly. You know the sink drain ring that is attached to the garbage disposal? The silver one with the embossed lettering that always seems to fill with disgusting gunk that you can't ever get silvery and shiny again? Yes, that one. Dry your sink. Put a rink of Cascade gel and push it forward a little with your finger. It will sit and start to slowly creep down the sides of the drain. After a little while, rinse it clean. It's shiny and gunk free. You're welcome.
2. What is your favorite food to snack on during movie night? Cheese, crackers and grapes.
3. If it was up to you, what would you have named the royal baby? I wouldn't have... nor do I give a flying flip about a royal ANYTHING. Who cares? Not me!
4. If you could be any Disney character who would you choose? Hmmmm well, let's see...
Sleeping beauty has to grow up without her parents... pass.
Fiona is fat, and green... and has to live with... Shrek... who is fat... and green... pass.
Jasmine has to live in the desert... pass
Ariel has to give up her family and her entire life to live on land... pass
Cinderella has to endure quite a hardship living with her step monster and two wicked, evil stepsisters. But then she meets her Prince Charming and lives happily ever after in a palace. Sounds like a fun gig. I mean, she'll have a cook, maid, tailor, chauffeur.... Sounds pretty awesome.
Minnie Mouse has the most annoying voice so I'd literally be forced to shoot myself... pass.
Daisy Duck has to put up with Donald and his temper... pass
Should I consider the non-female Disney characters? Cheshire cat? Goofy? Pete? .. naah...
However, Belle, learns to love someone for his heart... in an enchanted castle. And then let's not forget that HUGE library... plus, she's not a blonde. (No offense blondes, I'm just not a fan of blonde.) I'll take Belle!
5. What's the most important part of a healthy relationship? Being able to communicate your wants and needs and then, more importantly, know that they're not only heard but acted upon. Part of loving someone is doing what you need to do to make them happy... because THAT should make YOU happy in return.