1. Are you celebrating Thanksgiving at home or elsewhere this year? With whom will you spend Thanksgiving Day?
Holidays are at home. Lucky for me my son's football team won the last two play off games so instead of spending the holiday with his dad in Iowa, he gets to be here with me! He gets to go to football practice every single day (except Thursday) of his week off from school and they play another game on Saturday, but it is always a blessing to have my babies with me on the holidays! So, it'll be the five of us, my parents and a family from Josh's baseball team that relocated to Keller from Abilene last year. I love having new friends to celebrate the holidays with!
2. What do you have for breakfast on Thanksgiving?
Thanksgiving breakfast is always a casserole that has been made in the crock pot overnight so I don't have to cook. Want to know one of my favorites? It's this one from Eat At Home Cooks I
mix it up because I change out the cheeses, the meat, add in green onions, etc. but this is a great place to start!
3. Do you go to a Thanksgiving parade or watch one on TV?
I love to watch the Macy's Thanksgiving Parade at home. It makes me happy. I DVR it so I can fast forward through the commercials. I hate commercials... and most commentary.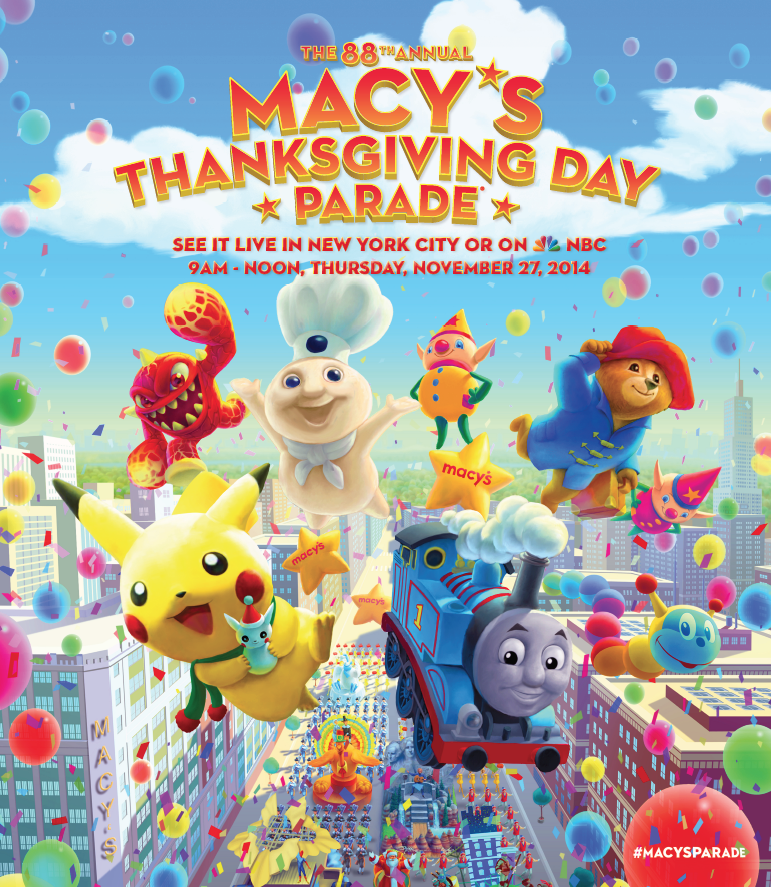 4. Do you serve appetizers, lunch, or snacks during the day?
Yes.
Ha! I almost just left "yes" there as my only answer.
We eat Thanksgiving "dinner" at noon, so after breakfast, we really have no appetite for snacks. Everyone just waits until the meal is served. I generally have the appetizers leftover from lunch and they're out for people to snack on for supper, too. I actually call "supper" dinner, but since I used the term dinner when referring to lunch, I decided to mix it up. Does anyone really say "supper"? I'm curious. For me it is usually breakfast, lunch and then dinner... but since the Thanksgiving meal is called "Thanksgiving dinner" it screws everything up.
5. What do you wear on Thanksgiving?
Nothing fancy... jeans, shirt... though I do think it would be cool to request everyone to dress in their "Pilgrim" best. Although, you know, if you know your history, you would know that this actually wasn't their traditional dress. Just like any other Puritan, they just wore simple clothing... not necessarily the black/white as depicted in all the children's books. Trivial information to help you embrace your inner Cliff Claven.
6. What's your Thanksgiving table like -- do you use special plates/silver/glasses, etc? Do you have a centerpiece? A color scheme? Candles?
Funny thing, I have china, but I never use it. I decided I'm really NOT a "china" person. Some years we've used really big sectioned disposable plates to eat lunch from and other years, we use our regular everyday dinnerwear (Fiestaware). I don't have two plates that are even the same color. Not a fan of the whole idea of matchy-matchy.
I use no "special" anything other than this old enamelware serving dish that was given to me by my grandmother. She taught me how to cook and it was what she used every Thanksgiving so I use it, too. I have no centerpiece, no candles, no color scheme. No pomp and circumstance, just friends, food and fellowship. I'm about the company and the food... not the superficial. In fact, I actually already have my Christmas crap out! I got antsy today and didn't want to wait!
7. Do you serve buffet-style or family-style? What do you have to drink?
Buffet style is a must because we generally have more people than space at the table so we just gather wherever and dig in! Drinks are sweet tea, water, wine, coffee and usually some type of punch for the kids.
8. Once you're at the table, do you say grace or a toast or does everyone go around and say what they're thankful for?
Before anyone digs into anything to make a plate, everyone gathers in the kitchen and grace is said. We've done the shin dig where everyone says what they're thankful for... but I really hated being put on the spot as a kid so I tend to not make anyone do that now. I've done the "thankful" tree.
9. Do you have dessert right after the main meal or later on?
Dessert is available immediately afterwards. Most guests aren't spending hours at my house so they eat... talk... eat dessert... talk.... leave. And this... this beautiful thing... is always on my plate! Calories be damned!
10. What do you do with your leftovers?
I LOVE leftovers! I make all kinds of things with leftovers. We always have ham and turkey leftover so I'm making tons of leftover dishes with those! I'll be sharing those on my blog next week!
Come join in the theivery at Sunday Stealing!