I have always been a side dish kinda girl. Never in my youth did a turkey eeeeever take center stage at our Thanksgiving feast... it was always the sides! I can't even begin to imagine the awesomeness that would be on a blog hosted by... say... my grandmother. Her cooking was SO epic! Seriously, she'd give Paula Deen and The Pioneer Woman a run for their money! The sides... oh man... the sides!
Thus, in my never ending quest to make awesome, drool-worthy side dishes, I am thankful for Pinterest. I am thankful for the amazing food bloggers and pinners that I have found through Pinterest.
Have I ever mentioned how much I puffy heart LOVE Pinterest?
Because, if I haven't, I need you to know... I do ever so much love love LURVE Pinterest.
Anyway, enough about that... onto the most awesome epic sweet potatoes like... EVER! I have a no-fail method for delicious sweet potatoes with a sweet, crispy candied pecan topping, but I wanted something -- more.
I found it! (Thanks to Pinterest!)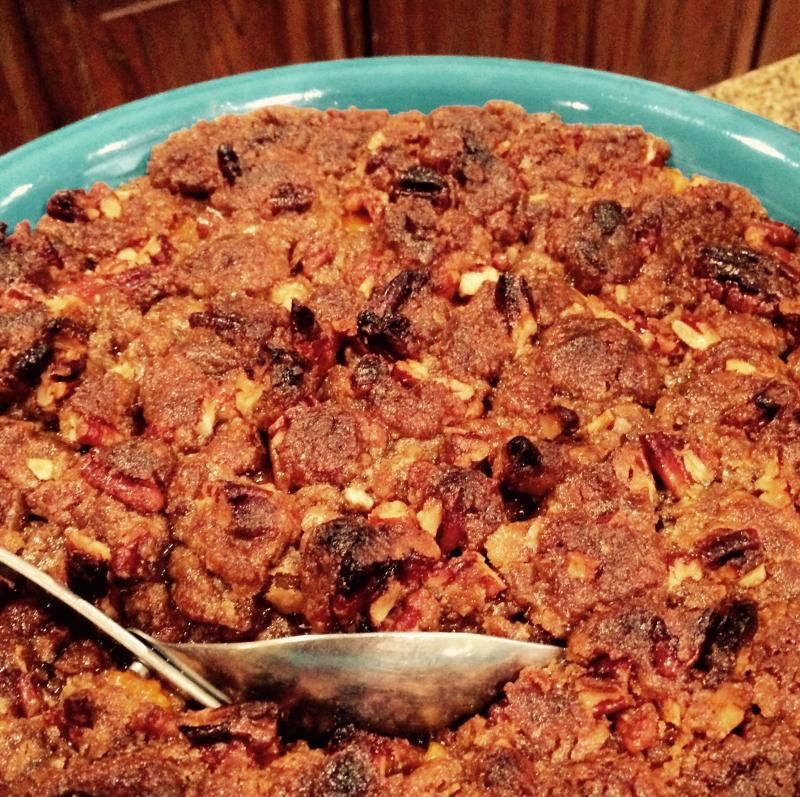 This recipe is found here on My Kitchen Escapades.
Ladies and gentlemen, I introduce you to your newest addiction for Thanksgiving -- the oh so wonderful Praline Sweet Potatoes. Please note, however, this dish is completely NOT for the health-minded individual. These are the sinful once-a-year kind of over-the-top most-looking-forward-to kind of side dish. These are the extra special tradition setting kind of sweet potatoes that will convert those weird NON sweet potato eating people INTO sweet potato lovers! I tell ya, you'll wanna slap ya momma!
Ingredients:
3 cups of mashed sweet potatoes
1/2 cup sugar
1 Tbsp vanilla
2 eggs
1/4 pint heavy cream
1/4 pound butter
1 cup brown sugar
1/2 cup flour
1 cup of chopped pecans
Directions:
Nuke your sweet potatoes until they're soft.

Spray a 2 quart casserole dish with nonstick spray.

If you're going to cook this now, preheat oven to 350 degrees. If not, don't. (hee hee)

Peel and cube the sweet potatoes. I smashed them down into my 4 cup measuring cup. (I actually used 4 cups instead of 3 of them because I wanted to use up all the sweet potatoes that I bought).

Once you've got your 3-4 cups of sweet potatoes, toss them into a bowl with the sugar, vanilla, eggs and cream. Mix well. Spread into the casserole dish.

At this point, you can cover it with saran wrap and refrigerate it overnight. Go ahead and make the topping and save it in a separate bag on the counter.

If you're serving it now, you'll need to make the topping -- this is the good stuff! With a pastry cutter (in a separate bowl), cut together the butter, brown sugar and flour until crumbly. Mix in the pecans and sprinkle over the potatoes.

Bake for 30 minutes.
Serve.... enjoy... get seconds...
YOU.WILL.THANK.ME!