In Texas, we like to tease that we have two seasons: Summer and Hell. Though I don't necessarily agree with this 100%, ask me in July or August and I most certainly
will
substantiate these rumors. However, one thing that we Texans look forward to every year is springtime. Though it's generally
very
short lived, it's still a beautiful site to behold as most of the greenways along the interstates become fields of wildflowers. And, not just any wildflowers -- the Texas State flower: the blue bonnet. How it gets its name is beyond me because, they look purple. A man probably named them.
I love getting photos in the bluebonnets. One of these days IIIIII will actually be IN these photos BUT this year I got the next best thing -- photos of my boys in the blue bonnets.
Just outside my neighborhood in our subdivision we have a place called "Wildflower Hill" and there are blue bonnets that spring up this time of year. The last two years I've missed the opportunities to get photos there (or anywhere for that matter) but not this year! I'm quite excited! Take a look at these Texas beauties. (And, for the record, I TRIED to shrink the photo size on Photobucket but the photos of Josh/Drew seem to be showing up huge on my blog still for some reason and blogger isn't real user friendly for resizing photos without making them disproportionate in some way. Just FYI.)
Big man, Drew (5)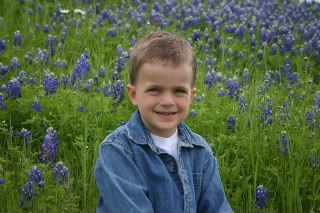 Older dude, Josh (10)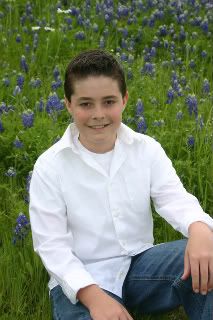 The boys together
Them finding a ladybug.
I, obviously, do not have any singles of Benjamin since he a) can't sit up b) can't smile on comand, and c) to me, setting him on a blanket on a hill on a blanket in some flowers that are surrounded by bees really didn't seem like that good of an idea. Call me crazy.
I know that my mother and my mother in law do not check out my blog (I hope) so I'm posting our Mother's Day gift on here too. I can't decide if I want to choose
one
and blow it up to 8x10 on a canvas and put it on an easel for them
or
if I want to choose them both, print them to 5x7 and then put them in a black frame with a double white matting and prop the frame on a black, wrought iron easel. Regardless of which one I choose to do for them, I hope they love these photos as much as I do! I think they're priceless -- but that's just the mother in me talking.