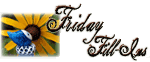 It's the weekend -- bring it on baby!
And...here we go!
1. On vacation, I like
no electronic interruptions... just me and the quiet and the mountains. Immersed in 100% nature is the best place for me
.
2.
There are a lot of things I don't ever want to encounter
in the ocean.
3. One of my favorite vacation spots
is the National Forest in Estes Park, Colorado. It's heaven on Earth
.
4.
Rumor has it that the crazies come out during a
full moon.
5.
"
Up, up and away
!"
Is something I can honestly say I've never said when it comes to ballooning over Colorado -- though I've always wanted to
.
6. Bananas
and strawberries make the best smoothies
.
7. And as for the weekend, tonight I'm looking forward to
making my grocery list and going to the store, finishing cleaning my casa and getting the house all lookin' good
, tomorrow my plans include
picking up Josh from the airport!!!!! He's coming HOME! and taking Drew to a Lowe's workshop to build a monster truck AND taking Drew to a birthday party
and Sunday, I want to
relax but I'm taking Ben to his 3 month photo shoot with Amanda as well as taking Josh to his end of season (football) party up at the clubhouse/pool
!
Come link up and join the weekly fun!
Friday Fill Ins