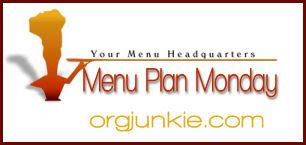 Yes, it's that time of the week! Menu Plan Monday! WOO HOO
Monday: B:
Dry cereal, milk
L:
Roast beef sandwiches from last night's pot roast, mac n cheese
D:
Grilled chicken, loaded mashed potatoes, green beans, whole wheat rolls
Tuesday: B:
waffles, fruit, juice
L:
Subway Tuesdays (tradition)
D:
Going out to eat with my dad and sister -- Mexican :) DARN - no cooking.. moo ha ha ha
Wednesday:
B:
Breakfast toasters (eggs, cheese, bacon on toast)
L:
tuna fish sandwiches, chips
D:
Hamburgers on the grill, baked beans, fries
Thursday: B:
Josh's favorite - biscuits and gravy
L:
Pizza rolls, ranch, carrots and celery sticks
D:
Spaghetti, salad, garlic breadsticks, crock pot apples for dessert
Friday
:
B:
Drew's favorite - Pancake Friday!
L:
sandwiches
D:
Josh and I are going on a camping trip so we'll be eating on the road or at camp depending on when we leave
Saturday
:
CAMP FOODSunday
:
B: CAMP FOOD
L:
On the road
D:
Taking my mom out for her birthday at Catfish & Company (her favorite)