We woke up today with a mission -- Drew's 6th birthday party! This was just his day with his friends. We would celebrate his ACTUAL birthday with our family ON his actual Birth Day. He was so excited. I had booked one of the large birthday parties based on the amount of RSVPs only to get several text messages and e-mails the day before that 7 of the kids couldn't make it because of sports. And, too, since it was so late, I couldn't reduce the size of the party so it still cost just as much. His best friend couldn't come because he broke his arm which meant, his little brother wasn't coming either. I'll totally rethink our party timeframe next year. YUCK!
Goal one - finish the cake. I was watching Semi-Homemade with Sandra Lee on Food Network and she did this volcano cake. It was SO COOL! I called Drew into the bedroom to see it and THAT was the cake he wanted. But, Drew, what
theme
do you want to have for your party? "Lego Starwars," he proclaims. So, a bouncy house birthday party with a volcano cake and a Lego Star Wars theme. Surely I can pull this together, right? After all, I AM supermom. (Said
completely
in jest, please note!)
I baked the red velvet cakes and got it all shaped up and coned up like a volcano. Andy picked up the remaining few items (including dry ice) so that I could have the "smoke effect" coming out of the top. I must say, the cake. It was pretty freakin cool. More about that later.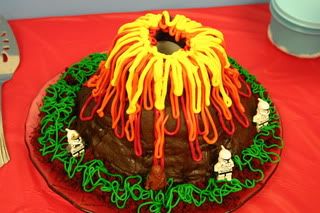 We got to the bouncy house. First ones there so BAM he was off!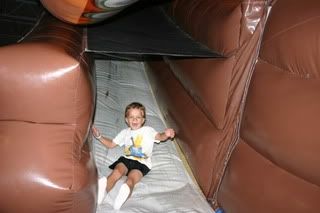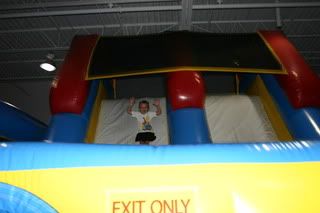 A few people trickled in and it was really nice that we did wind up having a much smaller amount becuase they were this little motley crew all over the place. It was adorable. They ran and jumped and ran and jumped until their little cheeks were pink as bubble gum!
Drew and Evan - one of the first to arrive.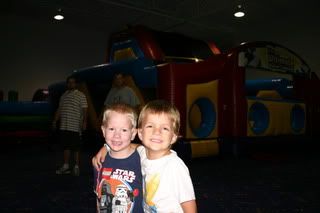 Here ya go -- our little motley crew.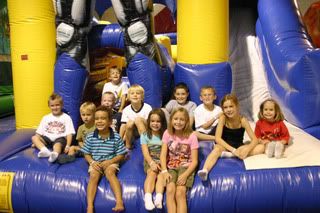 It came time to enter the party room for cake and lemonade... the looks on the kids' faces said it all. The cake - -it was cool!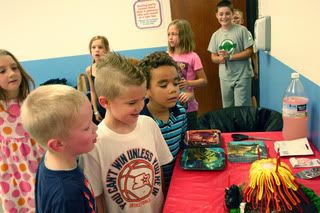 Our attendant cut the cake and served it. I brought some Chex Mix for the kids to snack on and then it was time to go.
This is big man blowing out the candles. 5 red ones on top and one cool Darth Vader candle on the bottom/front.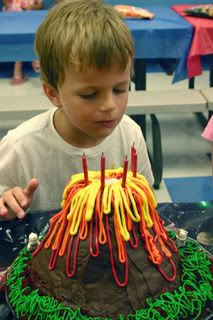 But, before they left, I got a few photos of Drew with a couple of his buddies in the big inflatable chair of honor.
Drew and Evan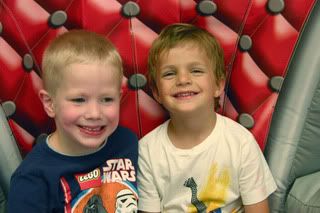 Drew and Dylan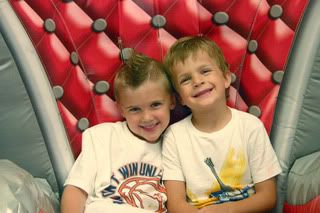 And... my three sons
We took the gifts home to open. I'm not a fan of the huge pain in the butt opening of gifts at party locations becuase it winds up being such a cluster. So we opened them at home and then I take a picture of Drew with each one and send that in the thank you card to the giver.
Ben was a champ. His "Aunt" Kristin carried him around until he fell asleep on her shoulder. He NEVER does that for me. Mom was there to "grandma" him so he had plenty of attention so that I could focus on Drew and HIS day.
Andy's cousin and her husband followed us home and we had a cook-out that evening for Drew's birthday, too. This meant he got to play with his cousins that live about an hour away for a long time. They had a great time. I think they're great people and hope to spend more time with them.
Oh, and the best part, Drew slept like a CHAMP that night! Ha!