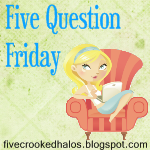 Rules for Five Question Friday: Copy and paste the following questions to your blog post, answer them, then link up to My Little Life (below)!

1. What is one food you could eat everyday? Sadly enough, there is NOT one food I could eat every day. I get sick of most everything on occasion, sweets included. So, even though I am a self-professed sweet toother! I can't even stomach eating those every day!
2. Are you working in the career you thought you would be when you were 18? No, I never thought I'd be a mom to three. Honestly, I never thought I'd be a mom. There didn't seem to be someone out there that I felt compelled to have children with, let alone be with for like.. you know... ever. I think when it happens and you mature and you reach that stage... the whole ballgame changes and your mindset shifts.
3. What is something that you wish you would have done when you were younger and you didn't? I wish I would have finished college because it's SO hard to go back now that "life" is taking place. Trying to do it later in life, while possible, is a pain in the arse. You also realize how much a ridiculous joke most of it is too... which sucks even worse because you are well aware of what you're paying for.
4. What color are your kitchen walls? They're a sand color with a dark glaze over them (they're that ... oh what's it called... plastered walls with the trowel marks on them..)
5. Do you remember what your very first favorite song was? You're not serious are you? Geez, I don't even remember what I WORE yesterday and you expect me to remember a song from... like... over 30 years ago? Yikes... no... thanks for making me feel like a geriatric patient in the Alzheimer's wing. (just kidding, I think...)