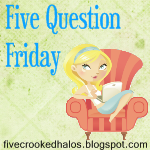 1. What is your favorite part of a Thanksgiving meal?
I love the food. Is food singularly and plural still count for one answer? Can the food as a whole be inclusive of the whole answer? I did get razzed this year over the fact that I didn't make mashed potatoes. DULY NOTED, MOM AND DAD! Next year, we'll have mashed potatoes! I PROMISE! :) I love everything, seriously, the appetizers, the salads, the rolls -- oh Lord, the rolls! I love the sides... I mean, honestly, I could do without turkey and ham and just live on the salads, appetizers, rolls and sides. :)

2. Are you a host or a guest for Thanksgiving this year?
I'm the hostess with the mostess don'tcha know?

3. When you think of one Thanksgiving tradition, what comes to mind?
Prayer. Thanksgiving is a time to be thoughtful in your words and deeds and to be prayerfully thankful for all of your many blessings.

4. You have two pieces of pie in front of you and you HAVE to eat one...do you choose pumpkin or pecan?
Pecan, hands down.

5. Are you a Black Friday Shopper?
Absolutely not. There is not one single solitary sale that is worthy of a) me losing sleep, b) being out of my pajamas before noon on a holiday c) enduring the cold in lines nor d) having to deal with mobs of people. My time is worth SO MUCH MORE than any stupid discount.

Now, if I can get those sales ONLINE.... I'm all over it!