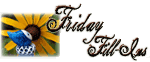 It's that time again. Here it is... and...here we go!
1. I was looking for Benji's missing sippy cup. I found it just now. In the back yard. Half buried. SOOOOOoo thankful it was full of water and NOT milk.
2. Facebook
is one of my favorite ways to socialize.
Mostly because I can still keep in touch with my friends even though I have an extremely busy schedule.
3. I looked at the clock this morning and decided to rollover and go back to bed. That is a nice feeling. It doesn't happen very often (AT ALL) so I am thoroughly enjoying this Spring Break.
4. A COLORFUL Uniball Vision fine point
is the type of pen I most prefer to use.
If I can't have that, I need a COLORFUL Papermate Flair.
5. What in the
HELL possesses ANYONE to do such unspeakable things to animals?
The cocker spaniel found yesterday stuffed in a trash bag in Wall Township has survived the night, but is still in critical condition.
Officials at the Associated Humane Society (AHS) in Tinton Falls tellNews 12 New Jersey the dog, Morgan, is on a feeding tube and is being cleaned up little by little. They believe he is about 8 years old.
The dog was found yesterday along Belmar Boulevard by Keith Morgan and his wife. The dog had severely matted fur and was covered in waste. Morgan and his wife rushed the dog to the AHS.
The Monmouth County SPCA has launched a full investigation into who is responsible for the dog's condition.
6.
Illness
seems to happen to me
FAR TOO
often
lately
. I'm going to assume because I hug and kiss on my kids so I'm the family petri dish.
7. And as for the weekend, tonight I'm looking forward to
picking up my oldest at the airport (he went to Iowa for Spring Break-- not by choice -- let's just get that clear). Then I'll be dropping him and his best friend off at the movies so he can at least have one fun event for the week!
Tomorrow my plans include making some bacon and French toast for breakfast and seeing Andy and Josh off as they leave for a baseball tourney in Austin (GO A's!)
and Sunday, I want to TRY to maintain my sanity. I'll have had Drew AND Benji the entire week mostly on my own. I'm spent
!