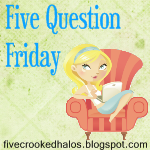 1. How often should adults have birthday parties? As often as they want. It's **their** birthday. Now, just because they CHOOSE to have a party every year doesn't mean that it's something everyone **else** wants to celebrate BIT that doesn't negate the fact that the birthday girl (or guy) could choose to have a party.
Frankly, however, I think parties should be reserved for
a) those that want them
b) the decades (30, 40, 50, etc.)
c) and they should never include wait staff singing.
2. What was your room decorated like when you were a child?
When I was a little girl I had shag green carpet and my room had white walls. I had a white bedspread that had print that resembled a quilt (but it wasn't a quilt). It looked like the squares were made of ribbon and the colors of the flowers in each "square" were orange and yellow with accents of green.
3. Do you have any traditions for Easter? If so, what? and do you have a why behind that? Nope. I mean, we do the baskets... the egg hunt... the food. Once upon a time, I went to church... but it's just an ass whip with a two year old and frankly, not worth the struggle to me. An exercise in futility... and I hate being called to pick him up.
4. Do you get Good Friday off? If so, any plans?
I never get any days off...are you freakin kidding me? I'm a mom.
5. Did you wear hats & white shoes to church on Easter? (Or was that just in the South?)
I think once.. as a kid... and then my mom wised up and realized how ridiculous that was.