Welcome to Saturday: 9. What we've committed to our readers is that we will post 9 questions every Saturday. Sometimes the post will have a theme, and at other times the questions will be totally unrelated. Those weeks we do "random questions," so-to-speak. We encourage you to visit other participants posts and leave a comment. Because we don't have any rules, it is your choice. We hate rules. We love memes, however, and here is today's meme!
Saturday 9: Hakuna Matata
1) Sam is crazy for The Lion King. Do you have a favorite Disney movie? Favorite? Not on your LIFE! Generally speaking, if my vehicle is in transit, I am listening to a Disney movie. Because of this constant barrage on my brain, I can quote just about any Disney movie verbatim! Finding Nemo, Toy Story, Toy Story 2, The Incredibles, Cars, The Lion King, Lady and the Tramp, Peter Pan, Bolt... yea, I'm kinda pathetic. Or, maybe I'm a Disney GENIUS! I'll stick with that. And you bet your ASS that I can kill when it comes to Disney's Scene It!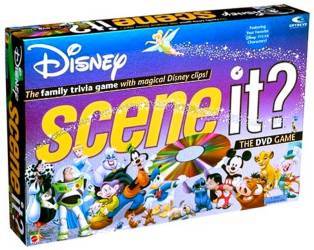 2) The song tells us that Hakuna Matata "means no worries." Is something worrying you right now? Sure, I'd be lying if I said nothing worried me. Will our government ever fix the proverbial the leak in the dam instead of poking more holes in it? Will my current malady heal itself without a doctor's intervention? What in the WORLD am I doing for dinner tonight?
3) Who is the most optimistic person you know?
My hunka hunka burnin' love. It's true. It's enough sometimes to make me want to punch him in the nose but he is.
4) Elton John wrote "Hakuna Matata" but didn't record it. Name a song Sir Elton is famous for singing.
I love Elton John. I can, however, do without the stupid sunglasses but it's sort of his trademark so I get that. That being said... there isn't just "a" song that he's famous for... I mean, He's THE SIR ELTON JOHN!
Don't Let the Sun Go Down On Me
Rocket man
I Guess That's Why They Call It The Blues
Daniel
Circle of Life
Honkey Cat
Bitch Is Back
Your Song
How can you list JUST ONE Elton John song? You can't!
5) Can you play the piano? Nope. I taught myself to play the organ when I was little but it's so long ago that I've forgotten all I learned. This picture has nothing to do with me but it's cute so I put it here. :)
6) Congratulations! You just won a guided African Safari Tour! 8 days in Zambia and Botswana for you and a friend. All expenses paid, and allowing you access to breathtaking, unforgettable sights. It takes at least 30 hours to get there, and before you go you'll need yellow fever and hepatitis vaccinations and medication to prevent malaria. Are you up for it?
Heck yeah! Let me get some more flash cards for my camera!
7) There's been a mistake. You really won a 4-night Disney Bahamas Cruise for two. Are you relieved or disappointed that you'll be partying with a guy in a Simba suit on the Lido Deck instead of observing a real lion in the wild? Disappointed. Cruises aren't doing so well now with the two Carnival catastrophes...sooooo I'll pass. Thanks!
8) Let's bring this back to real life -- do you have any vacation plans?
For today, nope. I suppose I should make some though. I wanted to take the boys to Colorado on a road trip this summer but with Josh being in baseball, that's not going to happen I don't think. If it does, it'll be late July. Maybe we'll still do it. Or drive to the beach. We'll do something. Not sure what...but something for sure.
9) Describe your luggage. Is it durable and high quality? Or are you like Crazy Sam, who has been known to use an Old Navy shopping bag as her carry-on?
Sam is NOT Crazy! I just recently bought some new "luggage" if you want to call it that. It's girly. This way I will be the only one to use it. Since purchasing it, however, I haven't GONE anywhere so I haven't NEEDED it...but I like knowing it's there. Is it high quality and durable. Probably not. But it's cute. And that counts for something!